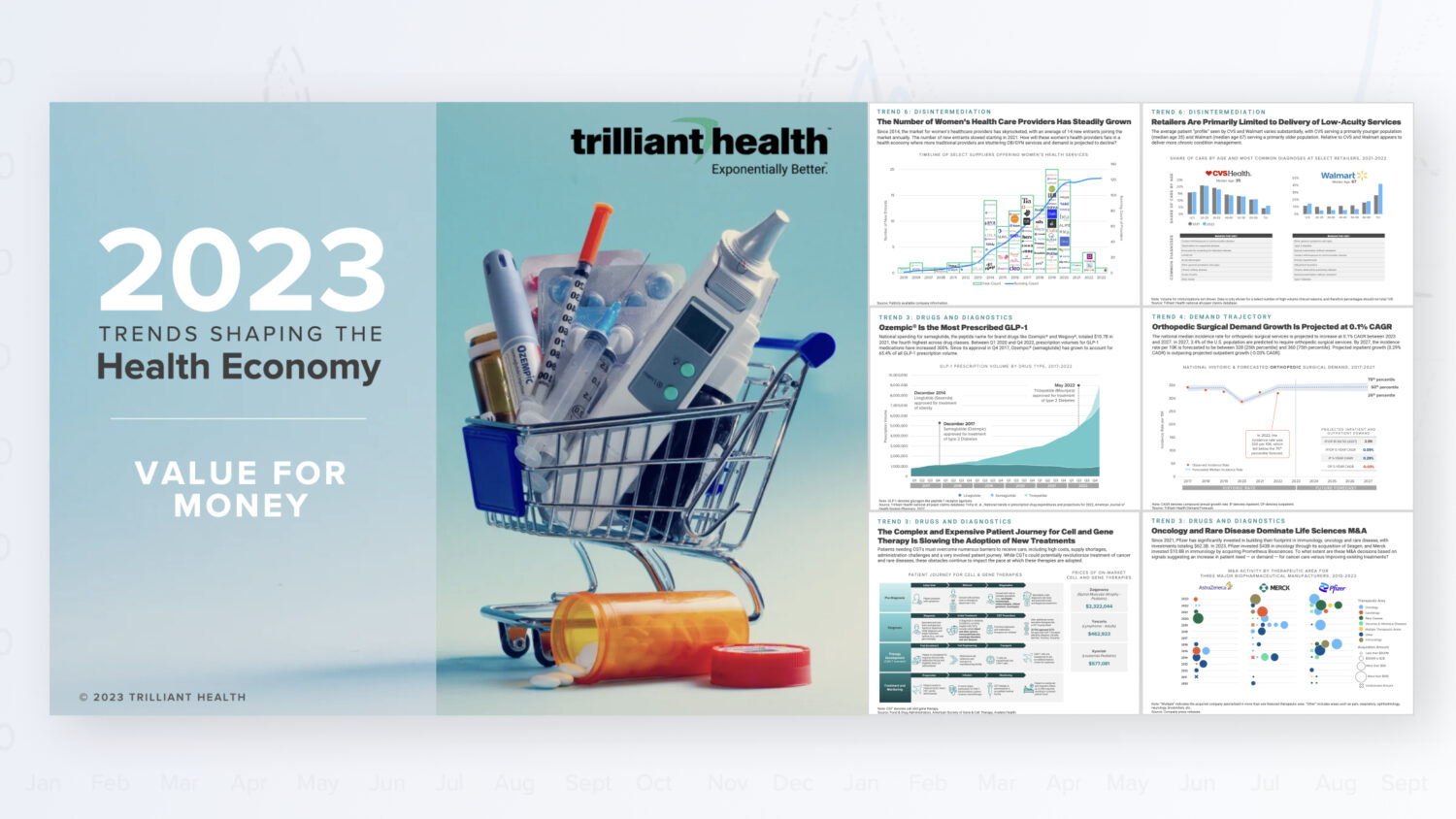 What You Should Know: 
– Trilliant Health, a healthcare industry's analytics and market research firm announced it has published its 2023 Trends Shaping the Health Economy Report. The 147-page report is a fact-based national analysis of 10 data-driven trends that will define the landscape, and subsequent challenges, for all players in the health economy. 
– Previous editions of the Trends Shaping the Health Economy Report concluded that healthcare is a negative-sum game and that every stakeholder will be impacted by reduced yield. Building on these prior conclusions, the third edition reveals the importance of delivering value for money, as opposed to value-based care.
10 Secular Trends That Will Define the U.S. Healthcare System
The 2023 Trends Shaping the Health Economy Report offers insight into the following 10 secular trends that will impact every healthcare stakeholder from providers and payers to life sciences, new entrants and employers:
1. The commercially insured market continues to erode
2. The physical and mental health of Americans is unraveling
3. Drug and diagnostic investments signal emerging patient needs
4. The tepid demand trajectory for healthcare services persists
5. Consumer behaviors are starting to manifest in patient decision making
6. The traditional care pathway is becoming disintermediated
7. New models of care are further constraining provider supply
8. The monopolistic effects of provider M&A are overstated
9. Employers are paying more for less
10. The market rate has been revealed, and it is lower than you think
Research/Background Methodology
Original research insights featured in this year's report are primarily gleaned from proprietary Trilliant Health datasets and analytic models that measure various dimensions of demand, supply and yield across the health economy. To study demand, Trilliant Health's national all-payer medical and pharmacy claims database and Demand Forecast were leveraged. The Trilliant Health Provider Directory was used to study physicians and allied health providers across the country. To measure yield, the report incorporates Trilliant Health's Health Plan Price Transparency dataset which provides negotiated rate data for services by market across large national and regional health plans.
"As a health economist, I study healthcare through the lens of demand, supply and yield," said Trilliant Health Chief Research Officer, Sanjula Jain, Ph.D. "According to the laws of economics, when supply exceeds demand or demand is flat or declining relative to supply, price goes down. In healthcare however, the inverse has been true for decades, but the status quo is unsustainable for the health of Americans. Despite significant investments and initiatives to 'transform' the $4.3T health economy, little has changed. Analysis of emerging and intensifying industry trends, however, suggests stakeholders may soon have no other option but to start playing by the immutable rules of a negative-sum game."
link