Article content
The physician is not into sugar-coated prose.
Article content
Never has been. The only question will be if the walk measures up to the talk.
Article content
"Citizens are saying: We're worried, we're unhappy, we're even frightened. We have the front-line people speaking out," says Dr. John Cowell, now big boss at Alberta Health Services.
"The message has been heard. Action is in play. We're in an immediate, must-fix-certain-things mode."
Cowell is Premier Danielle Smith's choice.
Cowell says Smith wants action on health care and is passionate about it.
The doctor says others around him get it and are on the same page.
One thing is certain. You can't say the premier isn't betting big at the political poker table.
Smith sounds like she's all in when it comes to shaking up the province's health-care system.
Article content
She must know her political future hangs in the balance with this high-stakes wager.
Smith promised change and now she has to deliver and quickly.
The election is in May.
She's given the Alberta Health Services board the heave-ho — at least for the time being.
She's brought in Cowell, who was picked to run the show at AHS nine years ago after spending his time as the province's health-care watchdog, known for biting as well as barking.
Cowell wasn't afraid to call the system out when required.
AHS board fired, replaced by new administrator Dr. John Cowell

Hero or villain? Dr. Deena Hinshaw is both to many Albertans

Bell: No Ralph Bucks-style Danielle Dollars, Dr. Hinshaw now out

'Don't throw them overboard': Former Alberta chief medical officer of health cautions premier over AHS revamp

Premier Smith signals swift changes to management of Alberta's health system
Article content
The premier says Albertans are waiting too long for an ambulance, waiting too long to be seen in emergency, waiting too long languishing on the surgery wait list.
"Albertans have been waiting and they can't wait any longer."
Smith wants improvements in all three areas — ambulance response, wait times in emergency and waits for surgery.
Smith says there have been all kinds of reports done on the state of health care.
"We know what needs to be done. We just need to do it.
"People will judge us based on the outcomes. If we're not making sufficient progress fast enough we'll be able to retool, get new ideas and keep going at it.
"They will be able to see: Do we have long waits of ambulances stuck at emergency waiting areas, or not?
Article content
"Are you able to get efficiently in if you need to be admitted, or not?
"Are you able to get treated efficiently, or not?
"People will be able to see that and they'll judge us. The people will hold us to account."
How much different will the system be come May and the election?
Smith says her expectation is "better than we are today. It will be better than it is."
The premier turns to Cowell.
"There will be a difference. It will be measurable," says Cowell.
He says there are unknowns like COVID and other viruses but the boss doc thinks it's a matter of speeding up changes already out there in health care.
Back in 2013, when he took over at AHS the first time, Cowell tore into the health-care paper-shufflers "mired in distraction" and talking more than doing at endless gabfests.
Article content
At the time he talked about a way of thinking in the AHS upper reaches where patients were somehow not relevant and, if anything, were an annoyance.
On Thursday, Cowell comes out of retirement, to try to shake things up one last time.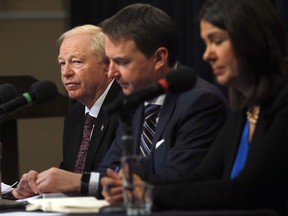 Cowell says he was finally getting his golf game down to where he was shooting his age but he is happy to put his shoulder to the wheel once again.
The doc says he's hitting the ground running, out of his jammies and back in his business suit.
The health-care system is in crisis. He says it is "super-stressed."
Everybody knows it. The patients know it, the front-line workers who deserve our respect know it.
Urgent action is needed. As in, right flipping now.
Cowell says he's learned not to try to tackle everything all at once. He's sticking to the basics off the get-go.
Article content
In February, Cowell says he fell and suffered a very bad fracture of the left leg.
One thing struck him as he was down in the mud getting hypothermia while waiting for the ambulance.
"I was very focused," says Cowell.
"Am I going to get help soon? What's it going to look like?"
Cowell sounds more than cautiously optimistic these days.
He does realize in the past we've heard the oft-repeated pledges to fix the health system.
Changes are made. Some are good. Some are not. And the same story of a system in distress comes around and around and around.
It is understandable many souls want to see the good before they believe.
The premier says she is not there to be radical or disruptive.
She is there to give Cowell the green light when he wants to go with something. She doesn't want him to face any barriers.
Cowell says he's ready to get going.
"In the past, if you keep trying to do the same things harder and expect there's going to be a different outcome that's a little bit akin to the definition of insanity.
"We've got to do things differently so we can get a different outcome."
Smith offers up the age-old assurance.
"Help is on the way."
It better be.
link