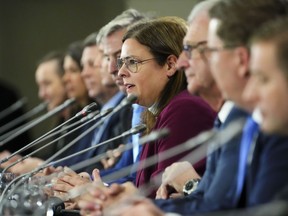 Article content
Canada is a federal country, so is Germany, United States, Switzerland and Australia.
Article content
By definition a federal country consists of several politically distinct units (provinces, states, lander, cantons) within one national country.
Article content
I have argued this point in many different forums, but essentially Canada's federal system functions on an ocean current of money — all of which originates in some form of levy or tax.
Will the provinces reject the federal government's disposition of our tax dollars for health care? I suspect they will not turn it down and accept as they did.
Even Ontario's Premier Doug Ford seemed prepared to negotiate with the feds.
Some years ago, I was meeting with Newfoundland & Labrador's minister responsible for intergovernmental relations in St. John's. At some point an agitated assistant deputy minister entered the office, cast a glance at me and said "Ottawa has just announced a new training program and we weren't consulted. Apparently we are to receive a chunk of federal money for a program over which we've had no input."
Article content
Both then launched into a modest tirade about federal intrusion into provincial jurisdiction.
I offered to leave the room, but the deputy minister said "No join us," so I did.
After several minutes of feigned outrage and assorted expletives, they began discussing announced details. There was a million or so dollars at stake. Eventually I interjected and asked, "Well irrespective of the program, do you intend to accept the money?"
They both smiled and the deputy minister said, "Of course we'll take the federal money."
Over a Halifax coffee I asked a former University of Toronto colleague, then working as a policy advisor to Nova Scotia's premier, why his premier had so willing signed the Meech Lake Accord.
His response: "the premier didn't give a damn about the Meech Lake Accord, he was in Ottawa to get more money for roads in Nova Scotia. His reward for signing."
Article content
Our constitution defines respective powers of each level of government in Canada. Sections 91 & 92 plus a few more define specifics of powers reserved for federal and provincial governments.
We also have a few of what are termed concurrent powers and a few exclusive provincial powers such as education.
Health care or our national medicare systems is not a constitutional right. The system exists by virtue of the 1985 Canada Health Act – a federal statute. So, while there may be a public perception of a right to health care its legality is statutory.
Provinces and territories are charged to deliver health care, but each province has its own distinct health care plan.
The primary objective of Canadian health care policy is set forth in Section 3 of the federal Health Act as "to protect, promote and restore the physical and mental well-being of residents of Canada and to facilitate reasonable access to health services without financial or other barriers."
Article content
Section 5 of Canada Health Act does specify who is responsible for funding. "Subject to this Act, as part of the Canada Health Transfer, a full cash contribution is payable by Canada to each province for each fiscal year."
So, the statutory structure is in place to ensure universal health care "without financial barriers." It is that detail which prompted a recent premiers meeting with Prime Minister Justin Trudeau.
Furthermore, it is also the simple fact it is largely federal government funding of provincial health care plans that led to provincial and territorial premiers reluctantly agreeing to the prime minister's announcement of an additional $46.2 billion above the already allocated $196.1 billion over 10 years.
Article content
Canada's much vaunted health care system is in crisis.
Certainly premiers will make a show of disappointment, but they will be happy to return home with whatever federal boodle they can obtain. They will not be pleased and many health care problems will remain, but money does talk.
The federal government funding might keep the provinces somewhat quiet for a year or two – or least past the next federal election. Even Mr. Poilivere appears to agree.
But there need be major systemic changes to providing health care and ultimately that depends upon provincial plan adaptation and innovation, more federal funding — or more federal tax points transferred to provinces.
Lloyd Brown-John is a University of Windsor professor emeritus of political science. He can be reached at [email protected].
link